Cornwall

#3


By Sarah E. Ladd

Evelyn Bray has called Wyndcliff home since her grandfather's disgrace took her from the life she should have had - a life of wealth and privilege. She has lived on the promise of restoration that her mother gave her, but the years have passed, and Evelyn is no closer to the life that should have been hers. With her mother pursuing a life without her, Evelyn must decide how the rest of her life will proceed - one of her Grandfather's choosing, the elusive dream of her mother, or one that she finds for herself. Change is coming, and the arrival of the new master of Wyndcliff Hall isn't the only one.

Liam Twethewey has a dream - a dream he hopes will bring financial aid to the tenants of Pevlyn and stability to the estate and himself. But Pevlyn isn't what he expected; the financial situation is direr than he was lead to believe, and the estate is in a deteriorating state in need of attention. But trust for a newcomer is not easily won, and there seem to be many who are working contrary to his goals.

When a shipwreck occurs shortly after Liam's arrival, he is shocked at the behavior of those who live along the coast and their attitude towards the wreck. With but two survivors, Liam opens his home to them as they hopefully recover. Evelyn helps as she can, though her grandfather frowns upon her taking part in such common activities. But helping out at Wyndcliff leaves her with questions about the night of the shipwreck. Questions that she and Liam both want answers to. But learn the truth can be dangerous, especially when keeping secrets has become a way of life.

This is the third book in The Cornwall novels series, and it is as delightful a read as the first two books. I appreciate this glimpse into the past, which in this case, is 1820. Life isn't easy, and livelihood depends upon the estate one finds oneself living near or on, which in this case has not been tended to since the death of Liam's great uncle. While this is a Historical Romance/Fiction, there is a thread of mystery that runs through it. This is most definitely a book that will draw one in from the opening page that sets the stage for Evelyn's life in the years to come. This book can be enjoyed without reading the previous books in the series, but I would recommend going back to read them afterward if you haven't yet enjoyed them.

I was provided a complimentary copy of this book with no expectations but that I provide my honest opinion. All thoughts expressed are my own.
The Light at Wyndcliff
Publisher

: Thomas Nelson (October 13, 2020)
Set in 1820s Cornwall, this Regency romance evokes the captivating worlds and delicious dramas of Jane Austen, Daphne DuMaurier, and Winston Graham.
Raised on the sprawling and rugged Wyndcliff Estate near the dangerous coast of South Cornwall, Evelyn Bray lives with her grandfather, a once-wealthy man reduced to the post of steward. Evelyn is still grieving her father's death and her mother's abandonment when a passing ship is dashed against the rocks. The only survivors, a little girl and her injured mother, are rescued and brought to Wyndcliff Hall.
Liam Twethewey is just twenty-two when he inherits Wyndcliff Estate from his great uncle. His optimistic plans to open a china clay pit to employ the estate's tenants meets unexpected resistance, and the rumors of smuggling and illegal activity challenge his new-found authority. Though wise beyond his years, young Liam quickly finds himself out of his depth in this land where long-held secrets and high-stakes agendas make no room for newcomers.
Brought together by troubling questions surrounding the shipwreck, Evelyn and Liam uncover even darker mysteries shrouding the estate. But as they untangle truths from deceptions, their loyalties separate them—and their budding love might not be strong enough to overcome the distance.

Purchase Links
About Sarah E. Ladd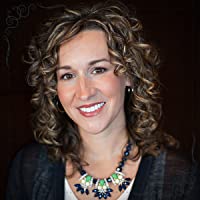 Sarah E. Ladd received the 2011 Genesis Award in historical romance for The Heiress of Winterwood. She is a graduate of Ball State University and has more than ten years of marketing experience. Sarah lives in Indiana with her amazing family and

a spunky Golden Retriever.
Connect with Sarah
Author Q/A:
1) What attracted you to this time period?
I was drawn to this period by ... reading!

Growing up I loved the literature and poetry of the Romantic Period, and the Regency Era overlaps this time. I adored Austen, Keats, and Byron and how they each gave us a glimpse into their world through their writing. The more I learned about that time in history, the more I wanted to know about it, and that is what started my research.
2) Who is you favorite character to date in this series?
This is easy for me ... Evelyn Bray from The Light at Wyndcliff. (But that isn't really a fair answer, because my favorite characters are always the ones that I am either currently writing or have just written!)
3) What one question do you wish you were asked and how would you answer it?

No one has ever asked me the following question: If you were to write in another time period besides the Regency Era, what time period would you choose?
My answer would be Edwardian England ... which takes place roughly a century after the Regency Era! Like the Regency Era, the Edwardian Era was a time of great social change, I think that social change is a great way to ground fiction into actual history.
Enter the Giveaway:
One (1) winner will win a copy of The Light of Wyndcliff
Entry limited to those with a US mailing address only
The giveaway will run from October 21, 2020, 12:00 am CDT
to October 27, 2020, 11:59 pm CDT.
The winner will have 24 hours to respond, or an alternate winner will be
Sarah E. Ladd's TLC Book Tours TOUR STOPS:
Monday, October 12th: Amy's Book-et List and @amysbooketlist
Monday, October 12th: She Just Loves Books and @shejustlovesbooks
Wednesday, October 14th: From the TBR Pile
Thursday, October 15th: @addie.yoder
Sunday, October 18th: @nurse_bookie
Monday, October 19th: @the_unwined
Tuesday, October 20th: Christian Chick's Thoughts
Wednesday, October 21st: Blooming with Books
Thursday, October 22nd: Reading Reality
Monday, October 26th: What is That Book About – excerpt
Wednesday, October 28th: @myreadingchronicles
Wednesday, October 28th: @lowkey.bookish
Friday, October 30th: @shobizreads
Monday, November 2nd: Leighellen Landskov and @mommaleighellensbooknook
Wednesday, November 4th: Books Cooks Looks
Thursday, November 5th: @adrianna.reads
Friday, November 6th: Living My Best Book Life and @livingmybestbooklife
Monday, November 9th: Laura's Reviews and @laurasreviews_1
Wednesday, November 11th: @booktimistic
Friday, November 13th: @rendezvous_with_reading
Tuesday, October 13th: @thebookdistiller