How the Light Gets In
By Jolina Petersheim
Ruth Neufeld's life is in tatters. Helping to care for her father before he succumbs to cancer added a strain to her already strained marriage, especially when Chandler again put his humanitarian work ahead of his family. But when she receives word that Chandler and his father were both killed in the Afganistan hospital in which they were working her life is forever altered. Traveling from her parents home in Ireland to Wisconsin for the funeral of her husband is not something she anticipated doing anytime some or ever.
When Chandler's cousin offers to allow Ruth, her daughters (Sofie and Vivienne), and mother-in-law Mabel stay in his home during their time of grief they agree. The Mennonite community Elam calls home is so foreign to what Ruth has known that it gives her a chance to heal and reflect on her marriage. But can you truly heal from a broken heart and crushed dreams?
Elam has dreams of his own - he dreams of a family and having children in his life. But Elam's life has been marked by the ill health of his mother during his childhood and his speech issues. Elam is a quiet person whose gentle demeanor and offer of help are just what Ruth and her girls need at this difficult time. And friendship is something Ruth needs more than anything someone who will listen and understand what she is saying.
With Mabel's encouragement, Ruth and Elam soon have something more than friendship. But with her husband so recently killed Ruth has reservations about a relationship at this time. But Elam is so different from Chandler caring about her dreams and helping her to rediscover what she lost in the chaos that her life had become.
But when a chance to reclaim what she thought was lost comes Ruth is left with a most difficult choice. Does she choose the love of her youth or the love found in the midst of her grief? Does she settle for what was or will she fight for what could be?
How the Light Gets In
is a moving story that will at various points affect the reader as Ruth and her daughters deal with the various losses that seemingly come within a short period of time. And when joy and grief become a tangle how one deals with it is seems an almost impossible task - yet Jolina Petersheim has her cast of character do just that. And the unexpected twists that come throughout keep the reader from becoming complacent and assuming just what the conclusion will be.
I have to admit this is the first book by Jolina Petersheim I have read so I went into this one with no expectations and was more than pleasantly surprised by this offering. A series of letters and memories between Ruth and Chandler are scattered throughout the book, adding another layer of depth by creating a backstory that is slowing unfolded as their life together is shared from their differing perspectives. When faced with a life-changing choice do we pick what we want and desire or do we pick the more difficult path the one that serves the greater good? How do we know what is the will of God? Does easier mean better? Love cannot be separated from pain, they are the counterparts to one another and necessary to grow and appreciate what is.
If you are looking for a book club selection this is one that will keep your conversation going. Highly recommended for your 2019 TBR (to-be-read) list. This one is releasing in March so get it on your list.
I was provided a complimentary copy of this book by the publisher with no expectations but that I offer my honest opinion - all opinions expressed are my own
About the Book:
"Compellingly woven by Jolina Petersheim's capable pen, How the Light Gets In follows a trail of grief toward healing, leading to an impossible choice–what is best when every path will hurt someone?" –Lisa Wingate, New York Times bestselling author of Before We Were Yours
From the highly acclaimed author of The Outcast and The Alliance comes an engrossing novel about marriage and motherhood, loss and moving on.
When Ruth Neufeld's husband and father-in-law are killed working for a relief organization overseas, she travels to Wisconsin with her young daughters and mother-in-law Mabel to bury her husband. She hopes the Mennonite community will be a quiet place to grieve and piece together next steps.
Ruth and her family are welcomed by Elam, her husband's cousin, who invites them to stay at his cranberry farm through the harvest. Sifting through fields of berries and memories of a marriage that was broken long before her husband died, Ruth finds solace in the beauty of the land and healing through hard work and budding friendship. She also encounters the possibility of new love with Elam, whose gentle encouragement awakens hopes and dreams she thought she'd lost forever.
But an unexpected twist threatens to unseat the happy ending Ruth is about to write for herself. On the precipice of a fresh start and a new marriage, Ruth must make an impossible decision: which path to choose if her husband isn't dead after all.
Purchase Links

Connect with Jolina
Check-out the book trailer
Check-out the rest of the TLC tour
About Jolina Petersheim: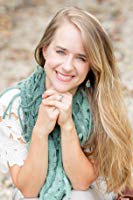 Jolina Petersheim and her husband share the same unique Amish and Mennonite heritage that originated in Lancaster County, Pennsylvania, but they now live in the mountains of Tennessee with their three young daughters. Jolina's fifth novel, How the Light Gets In, a modern retelling of Ruth set in a cranberry bog in Wisconsin, releases March 2019.
Connect with Jolina