On Magnolia Lane
A Blue Ridge Romance #3
By Denise Hunter
Pastor Jack McReady has feelings for Daisy Pendleton but he knows she sees him only as her pastor. And then there is the difference in their ages nearly ten years - which Jack feels might be a problem in Daisy's eyes.
When his best friends get together to help him out Jack finds himself with a profile on a dating app - he can't imagine what his congregation will have to say about that! Or worse all the single women might think he is looking for a pastor's wife. Fortunately, it is under the name TJ rather than Jack but when the nudge that his friends gave Daisy is replied to Jack is worried that Daisy will be hurt if he doesn't respond.
Getting to know Daisy outside of his professional life becomes the highlight of his week but what will happen when Daisy finds out that Pastor Jack is also TJ. Will the trust and new found friendship that they are developing be destroyed forever?
Daisy is all for helping anyone she can but accepting thanks or gratitude is just not something she's comfortable with. And the issues she's allowed to lower her estimate of herself over the years well they just prove that she's not the type of person someone like Jack (or any guy with a degree for that matter) should be stuck with. The guy she met online - TJ - he's safe, basically a stranger, someone she can share things with, things that might lower her friends' estimate of her.
When Jack asks for Daisy's in organizing a massive fundraiser for the local girls home - he
knows
that she'll be able to pull it off. But when Daisy learns of a secret that if true could destroy all that she knew, she knows of only one person to whom she can go to with her grief. Will it be Jack? Or will it be TJ?
On Magnolia Lane
is if not the best book in this series at least tied for the honor. I really like Jack's character and the personal struggle he faces when it comes to Daisy and his alternate identity of TJ. Daisy's fears and insecurities are understandable as cruel words have a way of sticking around and reminding one of their stings at the most inconvenient times. All too often one judges one's own achievements or lack of achievements against those of others, which is just wrong as each person is unique in their own skills and abilities. Like life, this book has moments that run the full spectrum of emotion that most can relate to.
This would make for an interesting book club selection and I would love to hear all the different takes on the various situations that arose throughout the book. For those unfamiliar with the Blue Ridge Romance series, you don't have to read the other books before enjoying this one, as each is complete in and of itself. Fans of contemporary romance fiction will want to curl up in a warm corner with a cup of tea and invest an evening or two in this one.
I was provided a complimentary copy of this book by the publisher through TLC Book Tours with no expectations except that I offer my honest opinion ~ all thoughts expressed are my own.
About the Book:
Falling in love with Daisy was easy for Jack.
But finding the courage to tell her
becomes problematic when his secret feelings
lead to even bigger complications.
Pastor Jack McReady has secretly carried a torch for Daisy for two long years. She's a member of his congregation, after all, and she'll never see him as more than a trusted counselor. Jack's best friend Noah has taken every opportunity to encourage his lovesick friend, but when Noah catches wind that Daisy has joined an online dating site, he takes matters into his own hands and orchestrates a meet-cute of the most unconventional kind.
Owner of the local flower shop, Daisy Pendleton is content with her small-town life, but she'd sure like someone to share it with. After several disastrous first dates, she's about to give up—and then she finds a seemingly wonderful man online. Daisy gets to know TJ through a series of messages but finds herself spending more time with Pastor Jack outside of the church at the same time. What she doesn't know is that her online prospect and Jack are one and the same.
Just as Daisy's love life starts to look promising, a mysterious woman appears in town. Daisy is faced with a revelation about her family that turns her world upside down, and she looks to both TJ and Jack for help.
Jack must find a way to reveal himself as her online suitor without breaking her heart and losing her trust. As Daisy faces Jack's betrayal, she'll have to learn to extend grace to herself, her family, and the man she's grown to love.
From the bestselling author of
The Convenient Groom
(now a beloved Hallmark Original movie) comes the final book in Hunter's Blue Ridge Romance series.
Purchase Links
About the Author: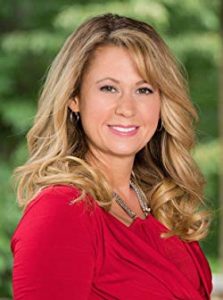 Denise Hunter is the internationally published bestselling author of more than 30 novels, including "The Convenient Groom" and "A December Bride" which have been made into Hallmark movies. She has appeared on The 700 Club and won awards such as The Holt Medallion Award, The Carol Award, The Reader's Choice Award, The Foreword Book of the Year Award, and is a RITA finalist.
Denise writes heartwarming, small-town love stories. Her readers enjoy the vicarious thrill of falling in love and the promise of a happily-ever-after sigh as they savor the final pages of her books.
In 1996, inspired by the death of her grandfather, Denise began her first book, writing while her children napped. Two years later it was published, and she's been writing ever since. Her husband says he inspires all her romantic stories, but Denise insists a good imagination helps too!
When Denise isn't orchestrating love lives on the written page, she enjoys traveling with her family, drinking good coffee, and playing drums. Denise makes her home in Indiana where she and her husband raised three boys and are currently enjoying an empty nest
.
Connect with Denise:
Instagram Tour Stops:
Review Tour Stops: