Welcome to the Scavenger Hunt Tour
for
Reclaiming Shilo Snow
by Mary Weber
,
Evaporation of Sofi Snow #2
The memories of that day came back - the day her world changed. The day her father died. The day her mother didn't come for them. The day they took them to the planet of Delon.
Returning to Delon in search of her brother Shilo has reawakened the memories that threaten to undo Sofi. But with the unexpected help of Ambassador Miguel, she has made it this far. And if she can use her skills to access the Delonese system she just may make it out alive. There's just one problem she has to stay ahead of the Delonese long enough to find the brother they have stolen from her.
But returning to Earth could be a death sentence as Sofi has been labeled a terrorist by the very people who staged the attack that allowed Shilo to be taken. But Earth might be the only place that Sofi and Miguel can hope to stop the Delonese and their secret designs on Earth.
So begins a game that will test Sofi on every level as she battles against her awakening memories, the Delonese, and the code. As the lines between reality and virtuality begin to merge Sofi will have to depend upon the skills that advanced her through the levels of the FanFights.
Meanwhile on Earth Inola Snow is in a fight of her own - with her children gone and on the Delon planet she is determined to get them back. But her secret dealings with Delone could be a potential liability, destroying all she's worked for. And it could make her a potential target to those who view Delon and her inhabitants as a threat to both humanity and Earth.
War could soon be upon their doorstep and the clock is
Tick
tick
tick

ticking
down. Are the Delonese their salvation or their destruction? The answer lies within Sofi if she can only find it intime.
If you have not read the first book The Evaporation of Sofi Snow don't pick up this book until you do. The vast majority of both books takes place over a couple of days - so reading this book first will totally confuse you - it would be equivalent to picking up a book and starting in the middle. This two books together are the complete and total story. And what a story it is! Betrayal, devotion, the bond of family, a world in peril - fans of fantasy and sci-fi will love this series that is for the YA teen and up reader.
I was provided an Advanced Reader's Copy (uncorrected proof) of this book by the publisher through JustRead Publicity Tours with no expectation of a positive review. All opinions expressed are my own.
She was far more capable than Earth's leaders had accounted for—and they had no idea what she'd do next.
Known as a brilliant mind that could hack humanity's darkest secrets, seventeen-year-old Sofi Snow is the most wanted teenager alive. She found her way to the icy, technologically brilliant planet of Delon to find Shilo, the brother everyone but Sofi believes is dead.
But as she and Ambassador Miguel partner to find her brother and warn those on Earth of Delon's dark designs on humanity, Sofi's memories threaten to overtake her, distorting everything she holds true. She knows the Delonese kept her in a dark, deceptive place . . . and destroyed a portion of her life. Now, the more they discover of Sofi's past, the more Sofi feels herself unraveling—as each new revelation has her questioning the very existence of reality.
In this harrowing sequel to
The Evaporation of Sofi Snow
, Sofi and Miguel must trust each other and discover the secrets locked inside Sofi's mind as the line between what's real and what they imagine begins to slip away . . . threatening to take humanity with it.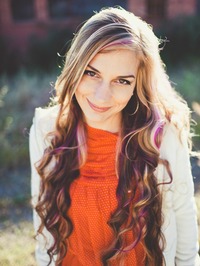 Mary Weber is the award-winning HarperCollins author of the bestselling young adult Storm Siren Trilogy, and The Evaporation of Sofi Snow series. An avid school and conference speaker, Mary's passion is helping others find their voice amid a world that often feels too loud. When she's not plotting adventures involving tough girls who frequently take over the world, Mary sings 80's hairband songs to her three muggle children, and ogles her husband who looks strikingly like Wolverine. They live in California which is perfect for stalking L.A. bands and the ocean. She gets nerdy at @maryweber.com, FACEBOOK @MaryWeberAuthor, INSTAGRAM @MaryWeberAuthor, and GOODREADS.
Visit
ALL
the tour stops and the
Tour Landing Page
Before you go here's the Scavenger Hunt clue hidden here
Tick,
Instagram:
Bookishly_Vintage
Adriana Raygoza
Read.Write.Coffee
The Fabled Fork
My So Called Chaos
Dauntless Booky
Book_Dragon17
MissDanaBlack
Booking_Belle
Stephanie H. Warner
Fiction Fare
Denzy.Rose
AmberAfterGlowReads
Nugglove67
xlittlebookwormx
Book Briefs
Staybookish
Dragon.Elf
Ramblings of a Reader
V.Joy Palmer
PopTheButterfly
Blogs:
Carina Books Blog
Quills and Inkblotts
Rebecca Waddell Books
Fiction Aficionado
LilBookLovers
Melony Teague
A Baker's Perspective
Fly Leaf Chronicles Blog
Reading is My SuperPower
Books and Waffles
Caffeinated Fiction
Remembrancy
The Start of Something New
Book by Book
Scattered Scribblings
Blooming with Books
Worthy2Read
Twitter:
Savings in Seconds
Thorn and Vine
One U.S. winner will win:
(1) Hardcover Copy of Evaporation of Sofi Snow,
(1) Signed ARC of Reclaiming Shilo Snow,
(1)With Music the World Evaporates Drawstring Backpack,
(1) The Evaporation of Sofi Snow Earbuds.
Don't forget to collect your clue before you leave.
If you missed it go back and find it.
1 eBook copy of Reclaiming Shilo Snow
Prize is courtesy of Thomas Nelson and Zondervan Fiction (TNZ Fiction). TNZ Fiction and JustRead Publicity Tours reserves the rights to terminate this giveaway at any time, and are not responsible for lost prizes.
Winner must respond within 24 hours with their preferred email address or another winner will be chosen.
a Rafflecopter giveaway
Thanks for joining the hunt!