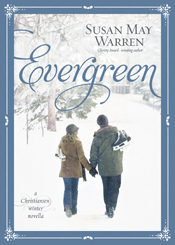 Evergreen
A Christiansen Winter Novella
By Susan May Warren
Evergreen
is Ingrid and John Christiansen's story. With their children all grown and gone Ingrid and John have a chance to do things they weren't able to do before. But John's planned Christmas surprise is thwarted when Ingrid volunteers them for their church's major Christmas project.
But John's determined to still surprise Ingrid, until the money he needs goes towards Butter's emergency surgery. When he accidentally reveals what he planned Ingrid is not impressed and almost angry with him.
When a family member reaches out for help Ingrid offers her assistance. This is yet another issue that seems to come between the two.
For some reason neither can understand they've drifted apart over the years. As they struggle to make their marriage work they must come to terms with an old heartache that they've been avoiding for years. But the biggest thing standing their way is whether they can even face this issue even now.
This one Christmas the Christiansens of Deep Haven aren't soon to forget as they struggle through old hurts and come to a new understanding with each other and a new trust in God. Though it is under 200 pages this is a book that packs a whole lota story in the pages. And be sure to have a tissue or two on hand, you just may need it.
Tyndale House Publishers provided me with a complimentary copy of this book in exchange for my honest review.
About the Book:
An empty nest has Ingrid Christiansen dreading the upcoming holidays, but her husband, John, couldn't be more excited about this new season of life. He even has a surprise trip abroad planned. He's sure she'll love it. What's more romantic than Christmas in Paris?
Before he can stop her, however, Ingrid agrees to spearhead a major church project. Then their faithful dog, Butterscotch, needs emergency surgery, draining their savings. And then—because disasters strike in threes—an unexpected guest arrives, dredging up old hurts.
As a beautiful blanket of snow transforms the north woods into a winter wonderland, a deep chill settles over John and Ingrid's marriage. With the holidays fast approaching, their only hope of keeping their love evergreen
depends on turning the page on the past and embracing a new chapter of their future.