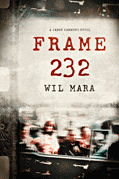 Frame 232
A Jason Hammond Novel
By Wil Mara
When Margaret Baker cut work so that she could watch President Kennedy as he made his way through Dallas, she had no idea that she would become a small part the assassination mythology. But fear keeps her from revealing her involvement to anyone. Years later when she examines the film she shot years before she sees something she shouldn't have seen much less captured on film.
Upon her death Margaret's secrets are left to her daughter Sheila. The burden of truth that Margaret has left behind may cost Sheila her life, but can Sheila did as her mother asked shortly before her death? Can she just destroy it, when some many over the years have wanted the truth?
Unsure what to do Shelia searches for someone to help her reveal the truth brings her to billionaire Jason Hammond. With reports of his integrity and his interest in unsolved mysteries, Sheila reaches out to him for help. When Jason first hears from Sheila he isn't convinced of what she says until she reveals her mother's identity - the Babushka Lady!
But someone wants to keep the truth hidden and they will do whatever to destroy anyone or anything that gets in their way. And the truth they uncover is more shocking than anyone could have imagined.
This is an exciting-keep-you-guessing-til-the-very-end read. Based on a historical event, speculation, and some inventive writing on the part of Wil Mara you will enter a reading experience that could truly be factual with his engaging writing style. Danger lurking around any corner. Conspiracies that as so complex that killing off those who have knowledge of them should assure the perpetrators of lifelong anonymity if not for a hidden home movie.
I am looking forward to future Jason Hammond adventures!
About the Book:
The time had come, she decided, to rid herself of this burden, to take the steps necessary to put the matter to rest once and for all. And the first step, she knew—against every instinct and desire—was to watch that film.
During the reading of her mother's will, Sheila Baker discovers that she has inherited everything her parents ever possessed, including their secrets. A mysterious safe-deposit box key leads her to the answers to one of history's greatest conspiracies: Who killed John F. Kennedy? Not only does she have the missing film, revealing her mother as the infamous babushka lady, but she has proof that there was more than one shooter.
On the run from people who would stop at nothing to keep secrets buried, Sheila turns to billionaire sleuth Jason Hammond for help. Having lost his own family in a tragic plane crash, Jason knows a thing or two about running from the past. With a target on their backs and time running out, can Jason finally uncover the truth behind the crime that shook a generation—or will he and Sheila become its final victims?