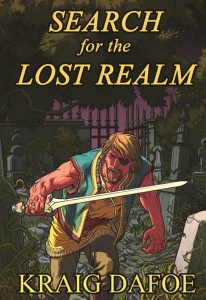 Search for the Lost Realm
By Kraig Dafoe
This a Varan's story and if ever there was someone less suited to be a hero it is Varan. He's a carouser, heavy drinker, a thief, a womanizer just to mention a few of his undesirable qualities.
But Varan is a true representative of most of his world, a world that has lost the truth of where it came from when it listened to the lies of the demon Eldrok and offered its souls to the demon rather than to the creator.
When Varan finds a piece of the legendary and long forgotten Divine Tablet, his life is about to change. He is about embark on a quest to gather the rest of the pieces so that the Divine Tablet may be restored or the world will fall into chaos that will further shatter it.
But is Varan's greedy heart ready to sacrifice rather than take? Join in the
Search for the Lost Realm
and discover the truth for yourself.
This would definitely be for the YA reader. I also think fans of the Inheritance Cycle books would most likely enjoy these books as some of the descriptive portions are written in a similar fashion (lots of details). Many of the predicaments Varan finds himself in are of his own making or because he ignored his gut feelings. There are lots of battle scenes which could and some cases cost Varan.
Don't skip the prologue as this explains the current situation on Kantania.
I was provided a copy of this book through Pump Up Your Book! in exchange for my honest review.
ABOUT SEARCH FOR THE LOST REALM
Search for the Lost Realm is an epic journey in which a young man named Varan wants to find a power which has been missing from the world of Kantania for thousands of years.
Varan sets out but soon discovers his true mission is to save the world's creator from a spiritual bond placed upon him by the powerful demon, Eldrok.
From demons to dragons and sorcerers to soldiers, battles erupt and Varan must hurry or the world could be lost to darkness forever.
This story does not consist of action alone as Varan faces dilemmas of the heart, struggles of the flesh and complex issues of the mind.
PURCHASE:
ABOUT KRAIG DAFOE
Kraig Dafoe was born in Potsdam, New York and grew up in Canton. He played high school football and joined the United States Army Reserves at the age of seventeen.
Kraig married at the age of nineteen and moved to Virginia Beach, Virginia where he worked as a Private Security officer for The Christian Broadcasting Network and also attended the Tidewater Community College for business.
After five years as a security officer, he became a Deputy Sheriff for the city of Chesapeake Virginia.
Kraig left the Sheriff's office after nine years of service and pursued a couple of different business opportunities before he went on to publishing his debut novel.
Kraig is the father of five children and he currently resides in Kansas, raising his youngest son.
Connect with Kraig:
————————————————————
Pump Up Your Book and Kraig Dafoe are teaming up to give you a chance to win a $100 Amazon Gift Card/Paypal Cash!
Here's how it works:
Each person will enter this giveaway by liking, following, subscribing and tweeting about this giveaway through the Rafflecopter form placed on blogs throughout the tour.
This promotion will run from April 1 – May 31. The winner will be chosen randomly by Rafflecopter, contacted by email and announced on June 1, 2013.
Visit each blog stop below to gain more entries as the Rafflecopter widget will be placed on each blog for the duration of the tour.
Good luck everyone!
ENTER TO WIN!