Heart in Hand
S
titches
in
T
ime
#
3
By Barbara Cameron
Anna has been having trouble sleeping. Whether it is just her loneliness and sadness from Stephen's death or the happiness that her cousins Mary Katherine and Naomi are experiencing in their own lives she can't say. But sleep is eluding her and it is starting to show.
When widower Gideon Beiler and his young daughter Sarah Rose enter Stitches in Time looking for craft that they can learn together they are about to become a part of Anna's life. Sarah Rose is hurting from the loss of her mother and she is acting out. Anna offers to help Gideon and Sarah Rose with their knitting and she suggests that Gideon share some of Mary's things with Sarah Rose to help her.
But some of Anna's knitting students mistake her interest in Sarah Rose as an interest in Gideon. And her cousins are hopeful that Anna may have a second chance at love and a family of her own.
But Anna needs to decide if she wants a second chance at love and marriage after all Stephen was her first and only love. Can she give up what she has gained since Stephen's death? Independence has become a part of her life and she doesn't want to give up the right to make decisions but her heart has become involved in the life of a hurting little girl and her father.
Could this be of God? Or will fear keep her from this second chance? When an accident occurs will Anna even have the option of a second chance at love?
Heart in Hand
is Anna's story, but Naomi, Mary Katherine and Leah are back with life changing moments of their own in this the third book of the Stitches in Time series. Be prepared to be charmed, to laugh, and to even shed a tear or two as you join Anna on her journey.
I received a copy of this book from the publisher for the purpose of this review, all opinions are my own.
ABOUT HEART IN HAND
Anna, a knitter and the oldest of the three cousins, watches the wedding of Naomi and Nick the following fall and remembers her own wedding. A widow, Anna thinks about how short her time with her husband was; as she looks at her grandmother, she wonders if Leah is recalling her own marriage. Her grandparents were married for a longer time than she and her husband were, but Anna and her grandmother lost their spouses only months apart three years ago. Perhaps this is why they have always felt so close. Both know how hard it is to be a widow, to go on with life.
Gideon Beiler approaches Anna one day. Gideon is a wonderful, caring man. He, too, has suffered a loss – his wife, Mary, died and left him to raise their only daughter. Spring is a time for new beginnings, for love to bloom as nature thaws the earth and makes it come alive again after the long cold winter. As love begins to warm Anna's heart again, she's afraid to chance losing someone she has come to care so much about. Her grandmother tells her she believes Gideon may be the man God has sent for her to have a second chance at love.
Stitches in time…and place: three cousins who laugh and love and learn about life together with their warm and wise grandmother, Leah, in their special shop. Two generations of Amish women who are bound by strong threads which bind them to their creativity and their community.
—————————————————————-
ABOUT BARBARA CAMERON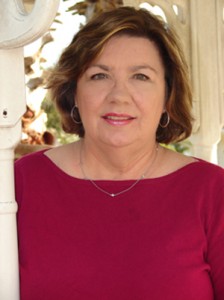 Barbara Cameron
is the author of 35 fiction and non-fiction books, three nationally televised movies (HBO-Cinemax), as well as the winner of the first Romance Writers of America Golden Heart Award. When a relative took her to visit the Amish community in Lancaster, Pennsylvania, she felt led to write about the spiritual values and simple joys she witnessed there.