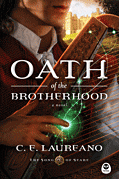 Oath of the Brotherhood
The Song of Seare 1
By C.E. Laureano
Connor Mac Nir is the son of the king. A prince who has been fostered by Labhras O Maonagh while King Galbraith yet sits upon the throne. And the time has come for him to return to his home. But Connor
knows
he will be a disappointment - he has no skill in the ways of a warrior but rather the knowledge of a scholar and a gift with the harp. But King Galbraith has found a use for his son he is to be a hostage of the kingdom of Faolan in exchange for an alliance between the kingdoms.
In Faolan, Connor's skill with music is encouraged. And he is allowed to follow the Balian faith, a faith that has been forbidden in Tigh upon pain of death. But it is his growing friendship with Aine, the king's youngest sister, that has the greatest influence upon him. Aine and Connor develop a unique bond that allows both to further hone their gifts - gifts that have a tie to the ancient magics of the Balian faith.
An ancient evil is gaining power, bringing the threat of war with it. Time is running out and Connor must leave everything he knows and loves behind to find his true path and how to use it for Comdiu's glory. But is he truly prepared to pay the price that his path is about to cost?
This is a truly fantastic book and I can't wait until the second one is released in February 2015. That in my opinion is the sign that a book is well-worth my time when I want to read a second book in the series.
About the Book:
In a kingdom where the Old Ways hold fast and a man's worth lies entirely in his skill with the sword, Conor Mac Nir is a scholar, a musician, and a follower of the forbidden Balian faith: problematic for any man, but disastrous for the son of the king.
When Conor is sent as a hostage to a neighboring kingdom, he never expects to fall in love with the rival king's sister, Aine. Nor does he suspect his gift with the harp (and Aine's ability to heal) touches on the realm of magic. Then his clan begins a campaign to eliminate all Balians from the isle of Seare, putting his newfound home in peril and entangling him in a plot for control of the island that has been unfolding since long before his birth.
Only by committing himself to an ancient warrior brotherhood can Conor discover the part he's meant to play in Seare's future. But is he willing to sacrifice everything—even the woman he loves—to follow the path his God has laid before him?