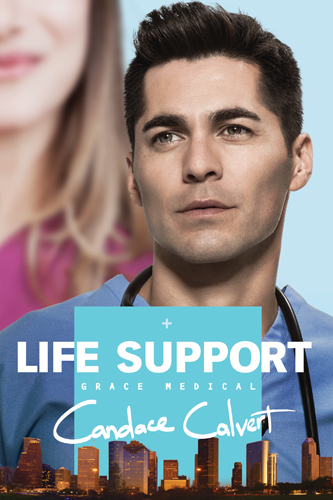 Life Support
Grace Medical 3
By Candace Calvert
Lauren Barclay's life is all about nursing and her younger sister Jessica.
Meanwhile PA Elijah Landry's own life is in turmoil with a disabled brother with health issues, a father threatening him, and a young daughter to raise on his own.
But their personal and professional lives aren't the only storms affecting Houston. With a hurricane bearing down on the Gulf Coast Lauren and Elijah's lives are going to get to a whole lot more stormy.
Lauren and Eli seem to feel that the future if their siblings rest on their shoulders. Can these two hurting people learn to put their trust on God? And can their families move past their pains and bridge the distances that have slowly worked their way into their lives?
Fans of Candace Calvert won't be disappointed in this her newest book. Get ready for some medical intrigue with a generous helping of romance thrown into the mix.
About the Book:
Nurse Lauren Barclay put her life on hold to keep a watchful eye on her troubled sister. It's why she's back in Houston. But that means confronting the brooding physician assistant who caused painful turmoil in her family—and left Lauren with memories her heart can't forget.
PA and single parent Elijah Landry is no stranger to stormy relationships, including one with his father, who is threatening him with a restraining order. It won't stop Eli from protecting his disabled brother—or from making peace with Lauren. He wants that and so much more.
But as Lauren and Eli draw closer, a powerful hurricane roars toward Houston. Survival instincts take priority and everything changes. Can hope weather the storm?