Are you looking for some good reads to end the kids summer vacation with? Check-out these books which are on the bookshelf at your local library or bookstore waiting to be read.
PERIL in the PALACE
The Imagination Station
By Paul McCusker and Marianne Hering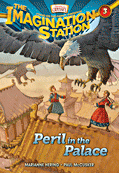 Kids can take another adventure into the past with Patrick and Beth thanks to The Imagination Station. This time they are journeying to China where they befriend Marco Polo. But they are about to discover new dangers when they offend Kublai Khan with their message of Christianity.
Beth and Patrick find themselves in trouble almost from the start when they are captured by Mongul warriors almost as soon as they step out of the Imagination Station. If not for the efforts of Marco Polo both children would have been charged with crimes.
When Patrick tries to answer Kublai Khan's questions about God, he receives scorn and is faced with proving God's power over Khan's shamans. But Kublai Khan is not easily swayed in his beliefs.
Patrick and Beth manage to escape but they don't return to the workshop at Whit's End...
About the Book:
The place? China in 1271. The quest? The golden tablet of Kublai Khan. The problem? Just about everything!
The Imagination Station adventures continue as cousins Patrick and Beth are kidnapped by Mongol warriors. Only the friendship of fellow traveler Marco Polo saves them from harm. They are brought to the Mongol palace, where the Kublai Khan dislikes both their gifts and their message about Christianity. The tension grows when the Mongol magicians challenge the cousins to a spiritual power showdown. As war breaks out, Beth and Patrick are locked in a secret room to prevent their escape.
How do the cousins get the golden tablet they need to save Mr. Whittaker's friend Albert? How do they escape the city and find the Imagination Station? Enter the perilous palace and find out!
RUNAWAY
Starlight Animal Rescue
By Dandi Daley Mackall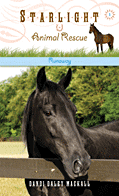 Dakota Brown's known to be a runner. She's been in the system since she was 9 and before entering it her home life was less than ideal.
But there is something different about this foster home. First it's in the middle of
nowhere
, and it has a really lame name Nice. Why anyone would want to live in someplace called Nice is totally beyond Dakota's comprehension. Then it is also home to Starlight Animal Rescue, not that there is anything wrong with animals, though Dakota isn't a fan of cats. But there are horses... And when Dakota and her caseworker Ms. Bean arrive they are definitely
not
on their best behavior trying for a good first impression, which is a shocker for Dakota.
But when Dakota finds a horse that
needs her
she is torn. Should she continue her plans to
runaway
to California? Or could she actually finally find a home with the Coolidges? And will Dakota discover what she truly wants before she ruins her chance to be part of a loving family?
About the Book:
I've run away seven times—never once to anything, just away from. Maybe that's why they call me a "runaway," and not a "run-to."
Meet 16-year-old Dakota Brown. She used to love all things "horse" until she lost everything, including hope. The minute she sets foot on her foster parents' farm—Starlight Animal Rescue—she plans her escape. But can an "impossible" horse named Blackfire and this quirky collection of animal lovers be the home she's always dreamed of?
Starlight Animal Rescue: Where problem horses are trained and loved, where abandoned dogs become heroes, where stray cats become loyal companions. And where people with nowhere to fit in find a place to belong.
WILD THING
Winnie the Horse Gentler
By Dandi Daley Mackall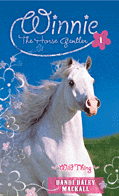 Winnie Willis has a way with horses, but since her mother's death she hasn't had one of her own. And that's just as it should be - after all she's the reason her mother died. And the last two years Winnie's just been existing - until she meets Wild Thing.
Wild Thing is a wild Arabian that no one can touch, but Winnie feels a connection with this wild mare. And Winnie is determined to get Wild Thing as her very own and away from the Spindells.
But Winnie's plan to raise money to buy her dream horse might backfire when Wild Thing is put up for sale before Winnie has raised a single penny. Will Winnie learn that she is loved and that God hasn't abandoned her? Or will she lose herself to her fear and the pain of her past?
About the Book:
Twelve-year-old Winnie Willis has a way with horses. She can gentle the wildest mare, but other parts of her life don't always come as easily. Along with her dad and sister, Lizzy, Winnie is learning how to live without her mom, who was also a natural horse gentler. As Winnie teaches her horses about unconditional love and blind trust, God shows Winnie that he can be trusted too. Readers will be hooked on the series' vivid characters, whose quirky personalities fill Winnie's life with friendship and adventure.
In #1
Wild Thing,
Winnie's fearful heart finally begins to trust God again as she tries to gentle the horse of her dreams, Wild Thing.