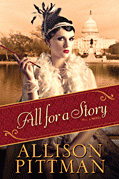 All for a Story
By Allison Pittman
Monica Bisbaine is determined to live life her way. And her way is having as much fun as she can, flirting with any man who is within a mile of her, and having a boyfriend who's married.
But Max Moore, her new boss at
Capitol Chatter,
has other plans when he takes over. He wants to find the good in Washington D.C. and he wants it reported. And when one of Monica's articles brings both her and the paper to the notice of local gangsters, Max is determined to bring new values to the paper. His first assignment for Monica join the Anti-Flirt Society and report on their efforts.
But Monica isn't changing her ways without a fight and she's determined to bring Max down (to the fun and illegal life of speakeasies and liquor). But Monica is about to be broken and see herself in a new light.
About the Book:
Monica Bisbaine loves being a modern girl in the Roaring Twenties. Her job writing a gossip column allows her access to all the local speakeasys in Washington, D.C., where she can dance the night away—and find fodder for her next article. But when the owner of the
Capitol Chatter
newspaper passes away, Monica wonders what will happen to her job, and the lifestyle she loves.
Max Moore may hold the title of editor-in-chief for evangelist Aimee Semple McPherson's paper,
The Bridal Call
, but Aimee calls all the shots. So when Max learns that his great-uncle has passed away, leaving him all his earthly possessions, Max resigns and heads to D.C. Determined to take over the
Capitol Chatter
, infuse it with his values, and turn it into a respectable paper, Max is soon bumping up against the equally determined Monica Bisbane.
Under Max's direction, Monica embarks on her most challenging assignment yet: infiltrating and reporting on the Anti-Flirt Society. Though reluctant at first, as Monica meets and mingles with the young women of the club, she begins to question the innocence of her flirtatious lifestyle. And when romance begins to blossom between Max and Monica, she must choose where her loyalties lie: with the young women of the society or the alluring pull of the speakeasy and its inhabitants.