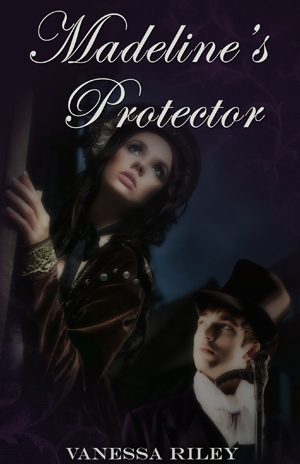 Madeline's Protector
By Vanessa Riley
Madeline St. James and Justain Delveaux, Lord Devonshire are brought together through a misunderstanding/mistaken identity and an attempt on one of their lives. But when Madeline takes a bullet that could cost her her life, Justain does what is necessary to save for life.
But Justain's act of heroism could cost Maddie her reputation. When Justain agrees to marry Maddie can this marriage that is in name only ever be anything more than a source of heartbreak for Maddie?
But Maddie is determined to be a true helpmate for her husband and to win his heart for Christ. But the man who almost ended their lives before will stop at nothing to end them. But Justain has sworn to be Madeline's protector as he is the reason that she has come to the attention of his greatest enemy.
But when the pair go to Avington - the estate of the St. James, Madeline's father and stepmother could destroy the fragile beginnings of a true relationship that are just beginning between the two.
Madeline's Protector
is an exciting foray into the Regency period, with change and unrest coming to England. Justain is a quandary, a man who is searching for fulfillment in his life. Caring for the downtrodden and yet determined to have his word obeyed without question. A man of honor who at time feels as if he has nothing of worth in himself. Madeline has a great faith and she relies on this to help her in this marriage and in helping her new husband discover his true worth in the sight of God. But is her faith enough to sustain her in the unexpected position she now finds herself in?
If you're a fan of Regency, Historical English Fiction, and Romance you're in for a treat as this delightful book wraps all three up between two covers. Hopefully Vanessa will revisit Madeline and Justain sometime in the future with a sequel!
I was provided a copy of this book by the author Vanessa Riley and
BookFun.org
in exchange for my honest review of
Madeline's Protector
.
About Madeline's Protector :
If all the young men of England leapt off a cliff, Madeline St. James wouldn't care. Then she'd have peace. Her nightmares of courtship would end,and she'd cozy up with a Psalm in her aunt's quiet sculpture garden. Yet, a chance meeting and a bullet wound change everything, and Madeline must trust the Good Shepherd has led her to the altar to marry a dashing stranger, Lord Devonshire.
Death and pain are no strangers to Justain Delveaux, Lord Devonshire, and he vows his dutiful bride will be kept safe and in her place. Though this compromised marriage is in-name-only, his wife and her unwavering faith both intrigue and allure him. Perchance when he thwarts his brother's killer, Justain will tempt the unpredictable Madeline with the comfort of his arms.
But can Madeline and the stubborn earl forge a true bond before the next disaster strikes?
About Vanessa Riley

Writer of Chr
is
tian Regency Fiction
The Regency and Vict
or
ian eras have always been a magnetizing draw for Vanessa Riley. Even as she worked to complete her doctorate in Mechanical Engineering , she made time for renaissance fairs and an
y novel or cinematographic work depicting these genteel societies of old. Perhaps, the attraction arises from the kinship she feels with the period being brought up in the restrictive Southern Bible Belt with its stringent definitions of decent behavior and life expectations.
Perhaps the common
denominator
to this appeal is her own thirty day Christian courtship or even the arranged marriages of her uncles; each is emblematic of the nuptials of those earlier times.
A technology muse like Dr. Vanessa Riley is probably not the immediate choice to write about haute ton English society set in the 1800's. With her most recent published work being "Reducing Deformation by Phase Manipulation," the common visceral reaction is that Providence has given another mule a voice to tell His story. Nevertheless, this mule uses her determined spirit and dogmatic tenacity to discover the hidden nuances of a character making him believable, her human and both ready to be used of God.