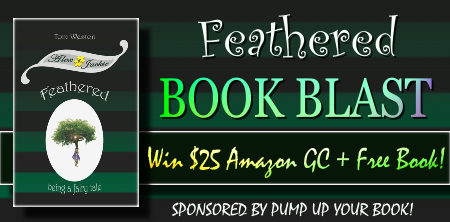 Welcome to Tom Weston's Feathered Book Blast!
Here's your chance to win a $25 Amazon Gift Card or Paypal Cash PLUS an autographed copy of his new fantasy, Feathered: Being a Fairy Tale! Feathered is the 3rd book in the Alex and Jackie Adventure Series and we're so happy to bring you not only a great giveaway but tell you all about Tom and his new book. This giveaway is open to U.S. and Canada residents and ends on March 29.
THE BOOK
Whenever Alexandra Caroline O'Rourke, AKA Alex, met with trouble, she generally blamed her younger sister, Jackie. And Alex's sudden engagement to marry a Viking prince, against her will, probably classified as trouble. If nothing else, a wedding held in 11th century Ireland would make it difficult to invite her friends from San Diego. Regardless of blame, Jackie was the only person who could help Alex, but Jackie was still in the 21st century. And Jackie had her own problems, which included uncooperative fairies and strange songs which only she could hear. But most of all, if Jackie could not find a way to make it rain, marauding Vikings would be the least of their worries, because this is Feathered: being a fairy tale and this is an Alex and Jackie Adventure.
Purchase your copy:
————————————————–
ABOUT TOM WESTON
Award winning writer and film-maker, Tom Weston, returns to the fantasy genre for his 3rd novel in the Alex and Jackie Adventure series, FEATHERED: BEING A FAIRY TALE. Originally from England, Tom now resides in Boston, Massachusetts. Before turning his hand to fiction, Tom had a successful career as the CEO of a consulting company, conference speaker and writer of industry articles and business books. But determining that the business world lacked a sense of humor, Tom decided to hand in his jacket and tie and instead turned to the world of literature. His novel, FIRST NIGHT, set in Boston during the New Year's Eve festival, introduced the unlikely heroines, Alex and Jackie, and the ghost of a 17th century Puritan named Sarah Pemberton. FIRST NIGHT won an Honorable Mention in the Middle-Grade/Young Adult category, in the Writers Digest 17th Annual International Self-Published Book Awards. The sequel to FIRST NIGHT, called THE ELF OF LUXEMBOURG, was published in January, 2010. As with FIRST NIGHT, THE ELF OF LUXEMBOURG is also a supernatural mystery, with a blend of humor and history that has become Tom's trademark. Following the publication of THE ELF OF LUXEMBOURG, Tom turned to the medium of film to produce and direct the award winning animated short, THERE BE MONSTERS!, based on one of his TALES FROM THE GREEN DRAGON TAVERN. Tom also wrote the critically acclaimed and award winning, Historical Fiction novel, FISSION, based on the true life story of scientist, Lise Meitner. Tom is now working on a new animated short called DANCING DAISY DAY.
————————————————–
Pump Up Your Book and Tom Weston are teaming up to give you a chance to win some fabulous prizes!
Here's how it works:
Each person will enter this giveaway by liking, following, subscribing and tweeting about this giveaway through the Rafflecopter form placed on blogs throughout the tour. If your blog isn't set up to accept the form, we offer another way for you to participate by having people comment on your blog then directing them to where they can fill out the form to gain more entries. This promotion will run from March 4 – 29. The winner will be chosen randomly by Rafflecopter, contacted by email and announced on March 30, 2013. Each blogger who participates is eligible to enter and win. Visit each blog stop below to gain more entries as the Rafflecopter widget will be placed on each blog for the duration of the tour. If you would like to participate, email Dorothy at thewriterslife(at)gmail.com. Last day to sign up is February 25. What a great way to not only win these fabulous prizes, but to gain followers and comments too! Good luck everyone!
ENTER TO WIN!