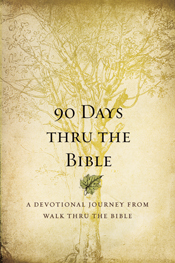 90 Days Thru the Bible
A Devotional Journey From Walk Thru The Bible
With Chris Tiegreen
Have you ever wanted to read through the Bible, but have never found the time? Well, you can read through the Bible in 90 days with this devotional guide. Days 1 - 56 are devoted to the Old Testament and Days 57 - 90 to the New Testament. Some books of the Bible are spread out over several days while others are covered in just one day.
90 Days Thru the Bible
is not an exhaustive study but it does provide a quick insight into the Bible. At the back of this study is an Appendix that can be used for a small group discussion. The discussion questions are arranged in a 13-week plan. Weeks 1 - 8 covers the Old Testament and weeks 9 -13 covers the New Testament.
The Bible is God's story and it is our story. The Bible explores our relationship with God and this study focuses on a few of the major themes found in it. God's plan to rescue us is the main theme that runs throughout the Bible and this journey. We are taken from the very beginning of the Story all through the way to the end. Will you become a part of the Story? The choice is yours.
A few truths that you will come away with include the following:
Instead of obeying an external objective truth, we are inwardly transformed because it's our new nature. This is an ideal that we are growing into.
I Corinthians is written to new believers who have issues with their faith, they are self-centered and casual in their commitment and beliefs.
We can't lose heart when we have difficulties, we need to endure.
God's timing is outside of our understanding.
When tragedy strikes, this isn't the end of the story but there is a lesson to be learned.
Tyndale House Publishers has provided me with a complimentary copy of this book for the purpose of this review, all opinions expresses are my own.