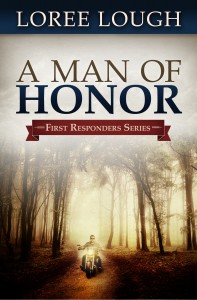 A Man of HONOR
F
irst
R
esponders
S
eries #3
by
Loree Lough
Dusty Parker wears many hats - pastor, search-and-rescue, and administrator of Last Chance. Grace Sinclair is a high school art and English teacher at an inner-city school. When a search for a missing 16 year old girl brings them together lives are about to be changed.
Dusty has overcome his past and spends his time working with troubled boys at Last Chance, a home he started. But gangs are moving in threatening the peace that this home stands for. Can he protect his "boys" from the danger that lurks outside their very door?
Grace spends her time reaching out to her students, trying to help them raise above the life that many of them have been raised in. when not teaching she takes care of Angel Acres the farm left to her by her grandparents. But when she needs help reaching Kylie a gifted but troubled young woman she is put in touch with Dusty.
Soon these two caring people are pooling their resources to help these hurting young people. But the past has a way of resurfacing and causing trouble. With faith in God and love they all pull together and get each other through the rough patches.
But one night everything changes in a terrifying moment. Will life ever be the same?
Be sure to have a box of tissues available throughout your reading
A Man of Honor
has some very touching moments that may move you to tears.
I was provided a copy of this book for the purpose of this review and all opinions expressed are my own.
Book Excerpt:
Dusty stifled a yawn and deployed the Harley's kickstand. Grumbling under his breath, he stowed his helmet, and, after squeezing rain from his ponytail, pulled up the rain-soaked hood of his sweatshirt.
A fat raindrop oozed from a leaf and landed on the tip of his nose, then slid to the blacktopped footpath, where it gleamed like a new dime. Up ahead, the red and blue strobes of emergency vehicles sliced through the gray mist, and the whoop of sirens silenced the usual chirp of tree frogs and crickets. If that didn't lend gritty balance to the postcard-pretty scene, Dusty didn't know what did.
Melissa Logan, age sixteen, hadn't been home since the night of her prom. Last seen a few miles west of the her high school, her disappearance had sparked an intensive dusk-to-dawn manhunt that left everyone scratching their heads. And this morning, when a jogger's German shepherd started acting spooky, the dominos began to fall…starting with its owner's 9-1-1 call and ending with another search, here at Gunpowder State Park.
"It's been nearly a week since she went missing," Jones warned, "so prepare yourselves."
Meaning, dead or alive, Melissa Logan wouldn't look very pretty, even in her fancy prom gown.