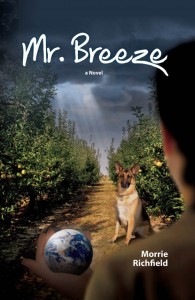 Mr. Breeze
by Morrie Richfield
When freelance photo-journalist Michael Ryan decides to compile a story about the goodness of people he embarks on a journey he never expected. When his researchers keep coming across the good deeds of one man Michael knows he has found his story - a story he will follow to the very end no matter where it takes him.
Miraculous healings, impossible rescues this mystery man can do it all and Michael is determined to find him. The latest event took place in Nashville so Michael heads there searching for something. But the mystery man contacts Michael and the first time Michael sees Zach Breeze he is in a confrontation with 4 drunks? Is this violent man truly the same man who can heal with a touch or a thought?
Mr. Breeze is a complex conundrum. Who or what is he? As Michael searches for the answers he seeks, he comes up with more questions than answers. How can a single man in just mere hours develop not only a prevention for AIDS but a cure for those already infected?
Mr. Breeze's answers are unsettling to say the least.
Mr. Breeze
is a book unlike any I have ever read before. First there are no chapters, there are paragraphs that can serve as a stopping point (I would recommend a post-it tab to serve as a marker). The idea behind the story has promise a search for the goodness in people instead of the violence and atrocities humanity has committed against itself over the centuries.
I was uncomfortable with the profanity that was throughout the book - in the past the
inspirational
books I have read have not had profanity so I was not expecting this. I also had trouble with some of the religious references made concerning the main character. But it was well written and I did want to know what happened (some books are so poorly written I could care less and
never
finish them). I can't say I liked it, nor can I say I hated it.
Mr. Breeze
is as hard to determine one's feelings about as it is to know the character Mr. Breeze.
Mr. Breeze
is above all things a message against violence and hatred towards our fellow man. We thrive on hate and use anything and everything to get what we want at the expense of everyone else.
But time is running out if we don't heed Zach's warning to change. And there is a price to be paid....
I received a copy of this book for the purpose of this review, all opinions expressed are my own.
ABOUT MORRIE RICHFIELD

Morrie Richfield lives in Pennsylvania with his two sons, his dogs and his cat. He is working on his next novel, and he still dreams that someday the world will be a better place for all of us to live.
His latest book is the inspirational novel, Mr. Breeze.
ABOUT MR. BREEZE
MR. BREEZE
(the title is inspired by a song by the rock band Lynyrd Skynyrd) follows the increasingly amazing experiences of freelance photojournalist Michael Ryan as he hears of stories about a man named Zack, who can seemingly perform inhuman feats that could be called miraculous. Ryan eventually meets Zack and becomes, at Zack's insistence, Zack's messenger. Along the way, a dog named Rover, who also possesses otherworldly powers, joins Zack and Ryan in their adventures, which include a remarkable visit to the Centers for Disease Control, in Atlanta, in search of a cure for AIDS.
The secret of who Zack is and why he has chosen Ryan to tell his story to the world forms the surprising and moving climax to the book.
And there is a
MR. BREEZE
sequel in the works, Richfield notes. The working title is
REVELATION: THE RETURN OF MR. BREEZE
. "The second book is about how we take that message (from the first book) and what we do with it."
In the meantime, Richfield hopes that readers of
MR. BREEZE
find the storytelling compelling. I also would like them to be entertained and to want to tell others about it. If they come away wanting to be a better human being, that would be a huge plus."
ENTER TO WIN!